Does your Mazda vehicle require an oil change here in the greater Fairhaven, MA area? Here at
Alden Mazda
, we have a team of skilled technicians that can perform an oil change on your Mazda vehicle in a matter of minutes, allowing you to drive with confidence for the next few thousand miles knowing that your engine is being properly protected by the motor oil that's recommended for it! We know Mazda vehicles like the back of our hands, allowing us to get to work immediately without wasting time trying to figure out a course of action. Whether your vehicle is past the recommended mileage interval recommended for its next oil change or you want to stay ahead of the game, we encourage you to bring it into our service center today and we'll get your vehicle's oil changed in no time!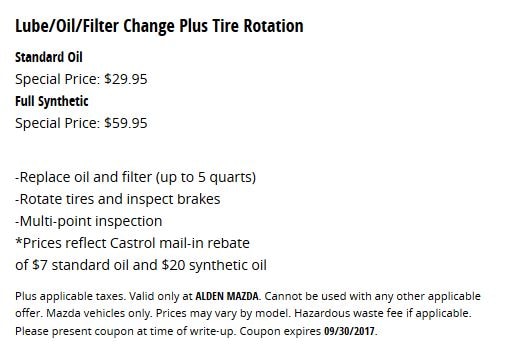 Your motor oil serves three main functions in your vehicle. It protects your engine from intruding dust or debris and keeps your engine clean and clear of it. It also acts as a lubricant to make sure all of the components are running smoothly. Lastly, it acts as a cooling agent to prevent overheating and maintain performance and efficiency. When you go too long without having your oil changed, it can start to gunk up and cause your engine to run less efficiently, and if left for too long, it can damage your engine and cause costly repairs. Having your vehicle's oil changed is one of the easiest and least expensive ways to maintain your engine's performance. So rather than risk a costly engine repair, the next time your Mazda vehicle's oil needs changing, we invite you to have it done right here in our service center!
You can check when your vehicle is up for an oil change by checking the recommended mileage interval set by the last mechanic to change your oil, or within the owner's manual of your vehicle. Whether you're past the recommended mileage interval or you want to stay ahead of any maintenance in the future, we encourage you to quickly schedule an appointment online or come see us in our service center at your earliest convenience and we'll get your vehicle the attention it needs to continue performing at the highest level far into the future! We're located right in Fair Haven, MA and proudly serve New Bedford, Fall River, Fair Haven, Dartmouth, and Raynham!