The Importance of Winter Maintenance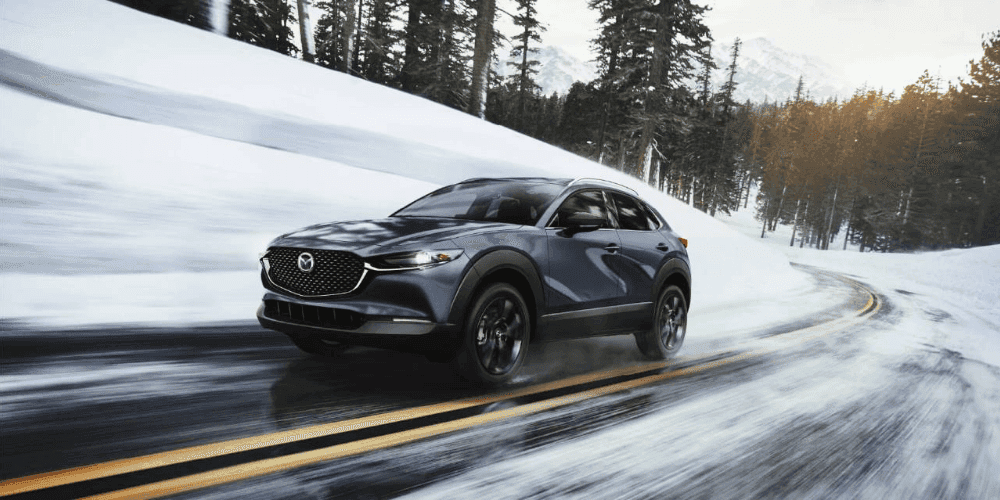 ---
The days are getting shorter and the air is growing cold as the holiday season approaches. The holiday season is a season of travel, whether it's for some holiday shopping in New Bedford or a long-distance trek to visit relatives. Keep all your travels safe with preventative winter maintenance on your vehicle and confidently handle whatever the roads throw at you! Read on to find out more about the different winter maintenance checks you can perform to keep everyone safe and warm even as the weather turns wicked with Alden Mazda.
Make Safety Your Priority
Snowy Dartmouth roads pose the biggest threat to you and your passenger's safety this winter. Even experienced winter-weather drivers should check these parts of their vehicle to ensure maximum safety in subpar road conditions:
Brakes:

Check your brakes regularly during the winter months. Wet and snowy roads can cause rust build-up, which can reduce your overall brake performance.

Tire Tread:

Before the snow and ice hit, check your tire tread. Uneven or heavily-worn tread can give you less traction, making it harder for your vehicle to gain purchase on the Fall River roads. If your tires look a little bare, visit our

tire center

and our experts will have you back on the road in no time.

Tire Pressure:

The more the temperature fluctuates, the more likely it is that your tires will lose pressure. Perform regular tire pressure checks on all your tires to ensure they meet your manufacturer's recommended inflation level. Properly inflated tires can boost your traction on rough roads and can give your fuel economy a boost as well.
Prepare Your Vehicle for the Elements
Staying on the road isn't the only concern as winter approaches. Prepare for low visibility or extreme cold by checking these vehicle systems regularly throughout the season:
Battery:

Perform battery tests and inspect your battery terminals regularly during the winter to see if your battery needs to be replaced. Freezing temperatures make it harder for your car to start, and no one wants to be stuck jump-starting a car in the cold!

Lights:

The sun is setting earlier and the chance of inclement weather is rising, providing extra opportunities for low-visibility situations. Have your lights and electrical system tested to check that everything is working properly. You can find backup bulbs for your headlights and tail lights at our

parts center

to stay on the road in the event of an unexpected bulb burnout.

Oil:

Cold temperatures cause the oil in your engine to thicken. Keep your engine running smoothly by getting your

oil checked

before the worst of winter hits.

Fluid Levels:

Give all the fluids in your car, like the antifreeze, wiper fluids, and coolant, a quick top-off before the season starts.
Stay Comfortable in the Cold Months
Ensuring your vehicle stays functional and safe on the Fairhaven roads is important, but keeping you and your passengers comfortable can make for a more pleasant driving experience. Your heating system will be essential once the temperature drops, so have it tested now before you find yourself shivering on your daily commute.
On top of physical comfort, give yourself peace of mind for those long trips by putting together a winter emergency kit. This kit can include items like hats, gloves, blankets, hand warmers, portable phone chargers, water, and food so that, in case of an emergency, you and your passengers will feel safe and secure until help arrives.
Stay On Top of Your Winter Maintenance with Alden Mazda!
Visit Alden Mazda's service department where our certified technicians can perform all the checks and changes you need before the winter season strikes. Schedule an appointment online or call us at 508-999-0100 and we'll be happy to prepare your vehicle for even the toughest Fairhaven winter. Drive confidently this season, no matter where the roads may take you!